Exhibit Booth Types
A trade show display is any collection of graphics used to promote a company in an exhibit which is open to the public or to a specific group. There are many different exhibit booth types and with custom design you can get exactly what you want. For example a home show and auto show are exhibits which are open to the public for the purpose of allowing the public to see the newest trends in autos and home improvements. An industry specific trade show would be open to a specific type of industry. For example in roofing trade show we would expect the attendees to be roofing contractors while the exhibitors would be the various suppliers and vendors to that industry. In both the public and industry specific trade shows the exhibitors would have brochures featuring their latest products and services. They would also be likely to have trade show giveaway items such as pens, notepads and other items which would all be imprinted with their website address, phone number and logo. In a way a trade show exhibit is somewhat like setting up a store in a shopping mall in which your store will only exist a few hours or a few days. Either way it is imperative that you make the most of the limited time you have in front of potential customers. The exhibit booth types range from simple pop up trade show displays to fully customized options that we offer here.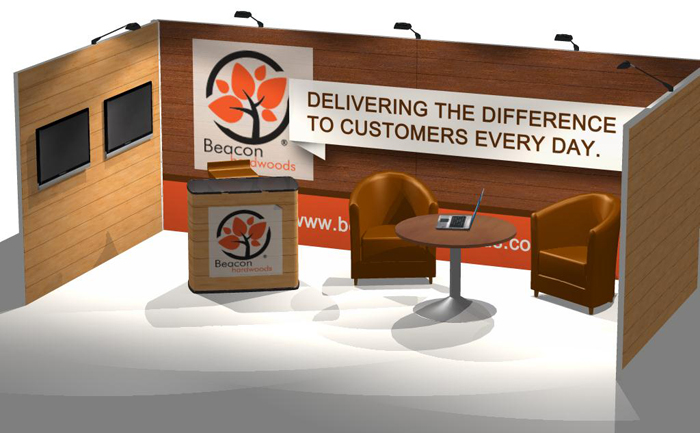 Make a great first impression with a variety of options including:
Banner Stands
Flat Walls
Curved Walls
Pipe and Drape
Pop Up Displays
Table Top Displays
Modular Exhibits
Extruded Displays
Table Covers
Video Walls
Work Stations
Conference Rooms
Hanging Signs
Backlit Displays
Literature Displays
Panel and Frame
With Custom Exhibit Booths there is no limit on our creativity with exhibit booth types as we custom design an exhibit from the ground up exclusively for your business. When there are budgetary concerns we are able to mix a combination of modular or extruded exhibit kits with custom options to create a more affordable exhibit.
No matter what we create for your business we will be certain to match the overall look and feel of your website, corporate video, brochures and any other marketing materials you may use.
The type of exhibits you typically attend will also help to determine the exhibit booth types that will be best for you. Also if you pay for premium exhibit space such as perimeter walls or islands then that changes your options. Each venue has their own rules and in general we may find that with an exhibit space in one of the aisles we may be able to have your back wall as high as 8 feet. When you are in an aisle along a perimeter wall then you are often allowed to have your back wall as high as 12 feet. Side walls are usually not allowed to begin more than 5 feet from the aisle and are not to be over 4 feet tall. When you have a booth in an interior or exterior aisle you will not be allowed to have a hanging sign.
Peninsula and Island booths are very similar but different. The peninsula booth will be open to aisles on three sides and the island booth will be open to aisles on all four sides. There are some general guidelines relating to peninsula booths and island booths and they are only guidelines. Each venue can make their own rules and even within a venue different exhibit halls may have their own rules. You should always check with the show management before beginning construction on an elaborate exhibit booth just to be certain that you'll be able to use it as you intend by checking with the show management company.
Peninsula Booth is one in which it is 20x20 or larger and one wall backs up to the wall of the next booth or the wall of the exhibit hall. The peninsula exhibit booth will have three sides that are open to the aisles. A peninsula booth can be at the end of two 10 foot wide aisles or it can be a 40x20 island area split in half to allow two 20x20 peninsula exhibits to share the space. A peninsula booth must have an undecorated exterior back wall so that no logos or graphics are visible in the neighbor's exhibit space. Generally speaking a hanging sign is allowed in peninsula booths.
An Island Booth exhibit space is usually 20x20 and it may be 20x40 or any size. What makes it a unique exhibit space is that it has aisles on all four sides. This allows for maximum exposure in all directions and there can be openings on all four sides and walls on all four sides. The island booth may be seen with a second floor and private conference rooms to meet with clients. Hanging signage is generally allowed over island exhibit booth spaces.