Exhibit Booth Bar
An exhibit booth bar makes people stop and look. Many people don't even realize at first this is just a trade show display; they pull up a chair and wait for the bartender. Here is an example of a trade show booth bar in which the client wanted it to look like a small craft brewery. They wanted people sitting at the bar to feel like they are looking into the windows of the brew-house so that they could see the beer fermentation tanks. We are able to add to the effect of making the windows look real by using backlit panels where the windows are supposed to be. Although the center portion looks like it may be made of concrete with a wooden door on the left side, everything you see here is printed fabric. The way we install the fabric on the framework allows us to hide the frame. With high resolution graphics, printing and photography we make this trade show booth bar look real. This was designed to be a 10x20 foot exhibit booth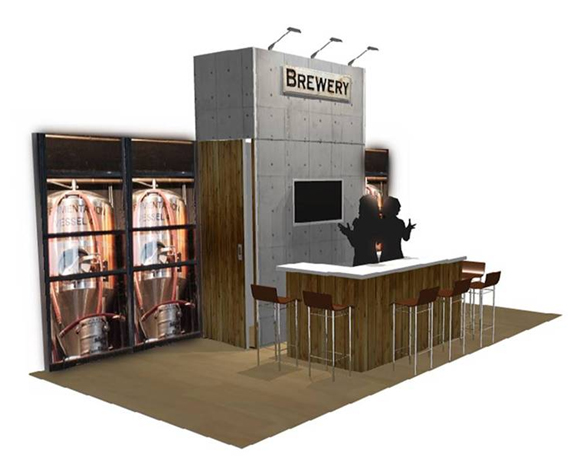 In this example it looks like we are viewing the Paris skyline while looking out the windows. We create this realistic looking effect by using backlit panels where the skyline appears. Every surface of the booth you see in this example is printed fabric. Only the counter-tops and TV monitors are real and not printed fabric. Since these panels are lighted from behind you are able to see the framework of the trade show display. The framework in the lighted panels adds to the effect of making you feel like you are actually looking out the windows.
Here is another view of the bar exhibit booth we designed to look like a craft brewery. Everything you see here except the counter-tops and TV monitor is nothing more than printed fabric. This makes the booth lightweight and easy to setup. In example the center part looks like concrete but it is printed fabric. To the left and right where you see the beer fermentation tanks we have lighted panels. The back lighted panels highlight the framework making it look as if we are seeing into the brew-house through windows. This would be a very typical setup in the tap room of a small brewery.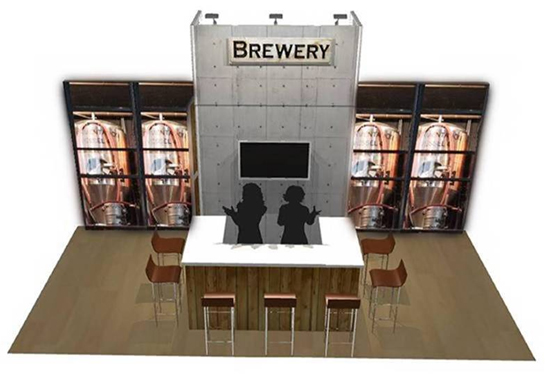 The video below shows how we are able to make an realistic looking exhibit booth bar using fabric to hide the frame.
We are getting many calls from new clients that want an exhibit booth bar. Interestingly most of the calls are coming from businesses that are not in any way involved in the sale of alcoholic beverages. The reason that people want a trade show display that looks like a bar is simply to attract attention. We can make an exhibit booth bar look so realistic that people will want to stop and give their feet a rest while talking with your bartender. Of course when you are at a trade show their is always a concession that controls the rights to provide food and beverages. As an exhibitor at at trade show you will not be allowed to sell or give away drinks. It is still a fun concept to have an exhibit booth bar because people will walk up to see what you are serving.

One of our clients purchased shot glasses and beer mugs from us with their logo and website address. They made an arrangement with the concession (it can be done) to serve drinks at their bar. Our client paid for the drinks and I'm sure they attracted a lot of attention that way.

You can have TV monitors that don't display sporting events like they would in a real bar; instead you'll show your corporate video. If you aren't sure what you'd display at your trade show booth bar; we can create the content for you.
In the video below you can see a real example of our easy setup custom exhibit booths. In the video you'll see the entire process beginning with removing the framework from the crate. Also since these are custom exhibit booths if you don't want a trade show booth that looks like a bar we can make it look like whatever you want.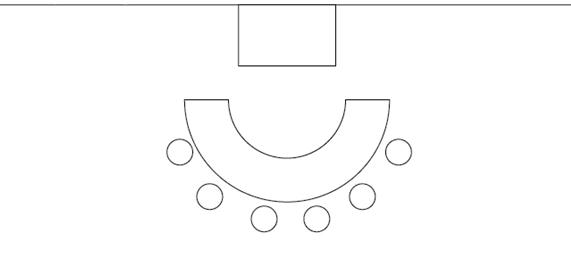 The craft brewery exhibit booth bar above began when the client sent us this drawing and asked if we could do something like this. Before we got to the examples shown above our trade show booth bar looked like the examples below.
In these renderings we created to show the client what our trade show booth bar might look like we added a center header which extends beyond 8 feet. As you may know most trade shows will not allow your booth to be higher than 8 feet tall. The exceptions are when you have a 10x20 booth or when you have a 20x20 island booth.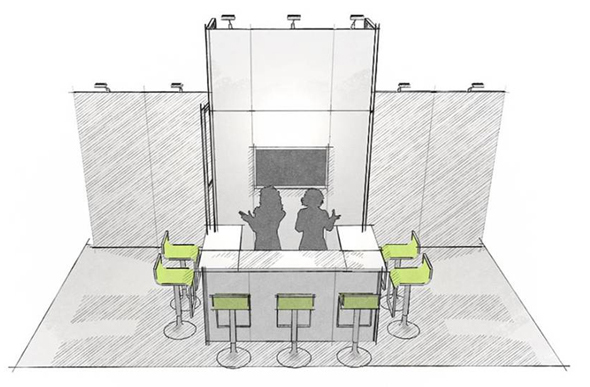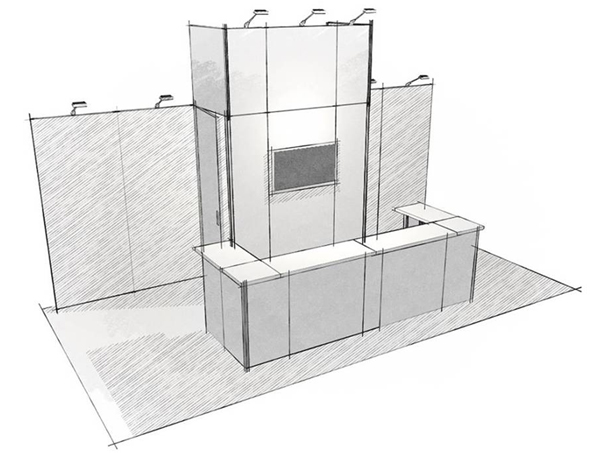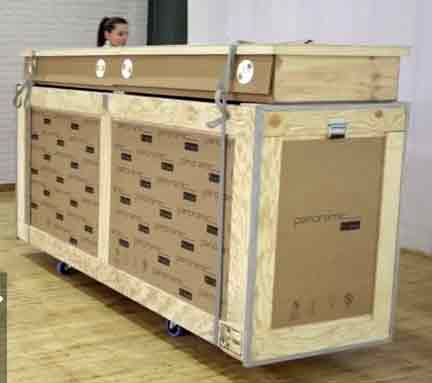 A 10x20 booth like this would require a shipping crate to get it to the trade show. We provide the crate with an extra storage space on top as shown in this image. If this is your first time using a custom 10x20 exhibit booth please keep in mind you'll have a shipping cost to get the booth to the expo hall and a drayage cost to have workers there bring it to your space.
The extra storage space at the top may be used to hold brochures, TV monitor or other accessories.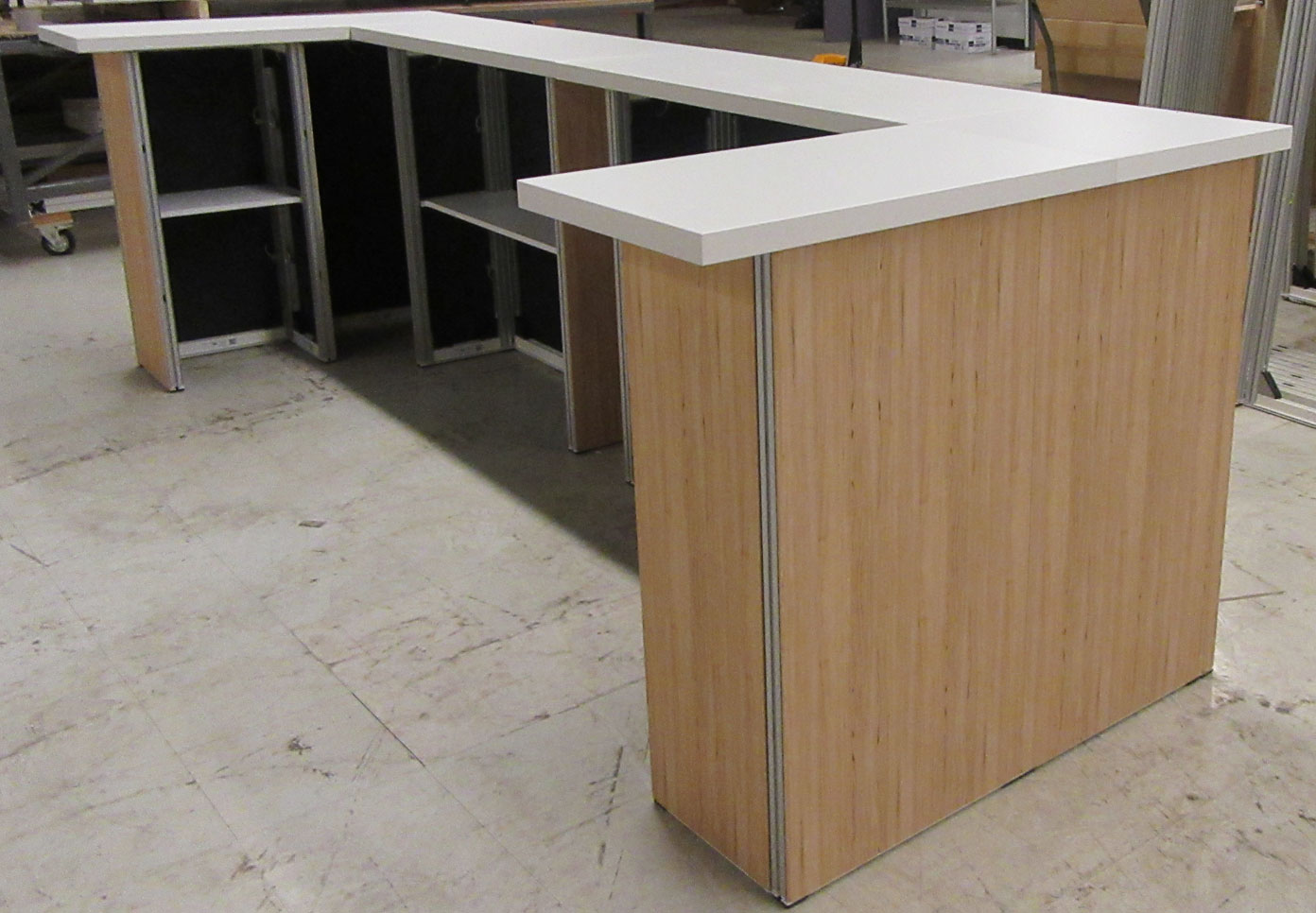 In the end the client decided not to go for the whole bar look and wanted more of just a bar counter-top for the trade show. They got an idea from walking into an Apple Store where they saw white counter-tops with light colored wood below. Of course this would be extremely heavy if it were actually made of wood and would cost a fortune to ship and setup. It would also be an expensive cabinetry project for a carpenter. We printed high resolution wood grain on tightly stretched fabrics that hide the framework which can only be seen at the back. Our wooden bar fooled everyone at the trade show into thinking they were actually wood.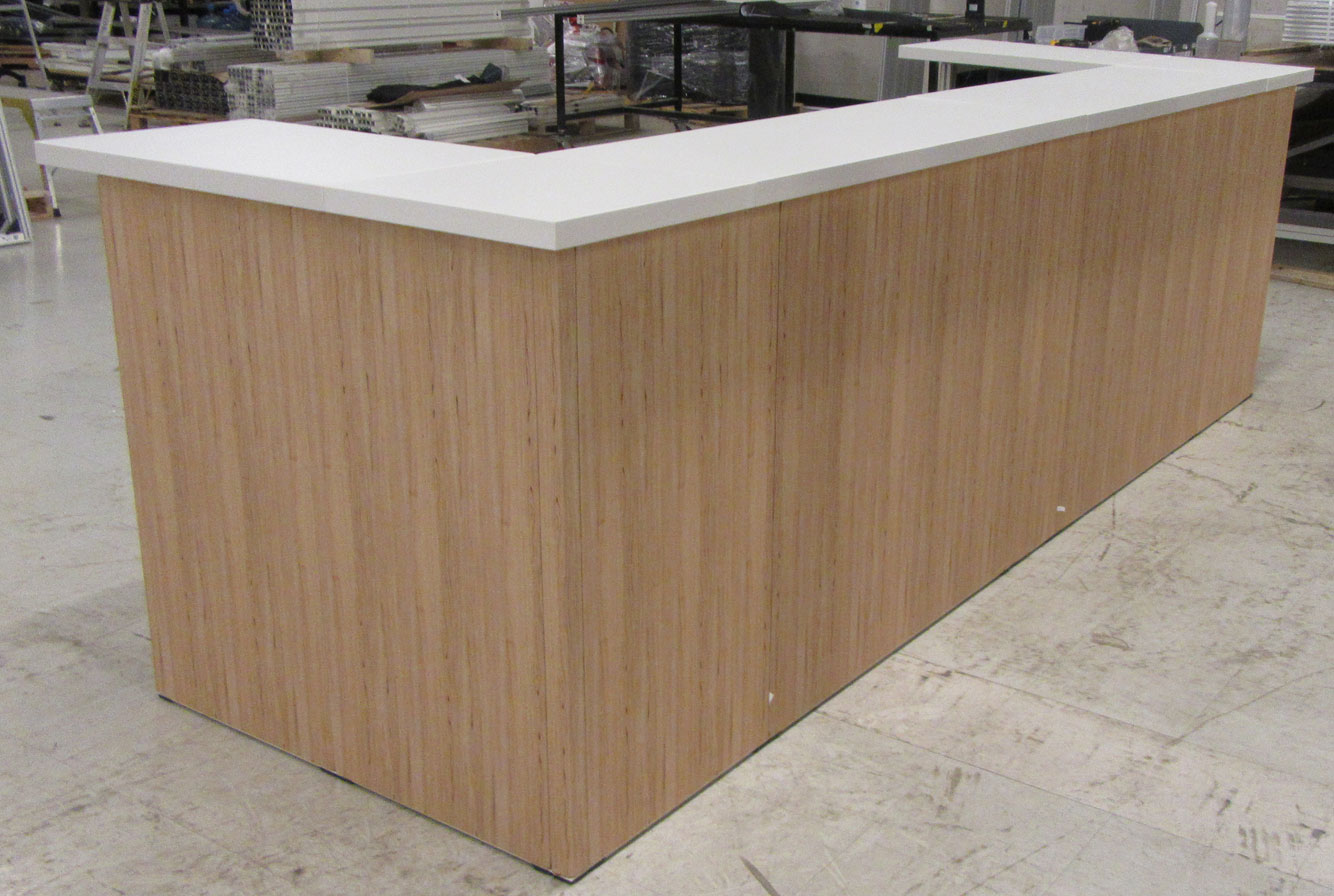 ---
We also make podiums that are much simpler, lighter and setup very fast like the one shown in the video below. This trade show podium is so light we call it Air!
---
Here is an example of our modular counters. If you've got a minute you can see how easily our modular counter tops setup without any tools at all. In fact, if you've got two minutes you could set one up yourself.
---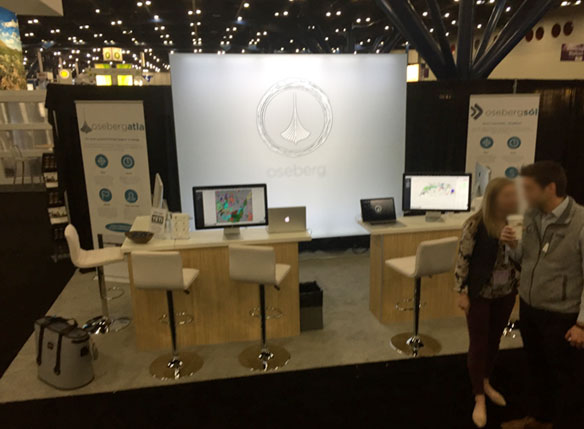 Another big plus is the flexibility this type of exhibit booth allows. The panels are separate parts that clamp together without any tools. They can be arranged in a variety of ways so that it could be used in a 10x10 space or a 10x20 space. Here is a photo the client sent me from the trade show. They decided to separate the bars into two separate bars with a space in the middle. Below you can see a rendering we created to show our client several ways that the counter-tops could be setup depending upon the size of their exhibit booth space at the trade show.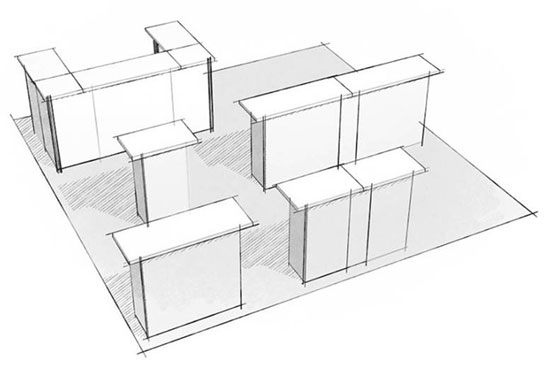 ---
In the video here you'll be able to see the easy setup process and some options such as a storage area and a TV monitor mount that allows you to attach a lock to keep your TV from walking away.
---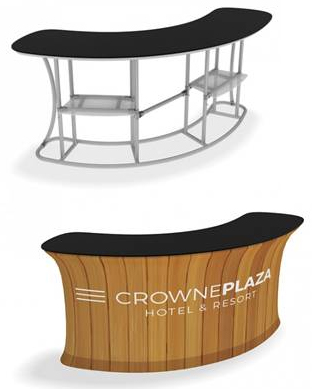 If you are exhibiting with a 10x10 space we can create a smaller bar to fit your space. Here is an example of a bar counter we can print with the look of wood, bamboo or whatever you like. If you need to keep your costs down maybe this is all that you need. We could also add printed carpet that looks like wood, sand or any other surface.
We could print the bar to look like bamboo and the flooring to look like beach sand to give you a tiki bar look.
This type of bar would offer easy setup, much lighter weight than the 10x20 examples shown above and substantially lower cost. We create trade show bars in all price ranges and styles.
---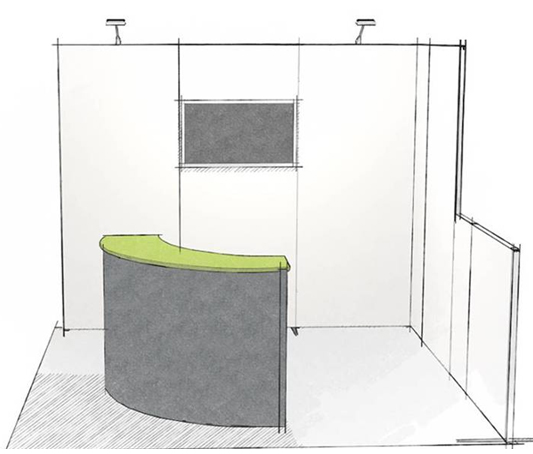 Here is an example of a 10x10 trade show bar that has a side wall. The side wall works because the wall goes up against the neighboring exhibit booth. In this case we kept the left side open because they have an end booth. People can walk up to the bar from two sides.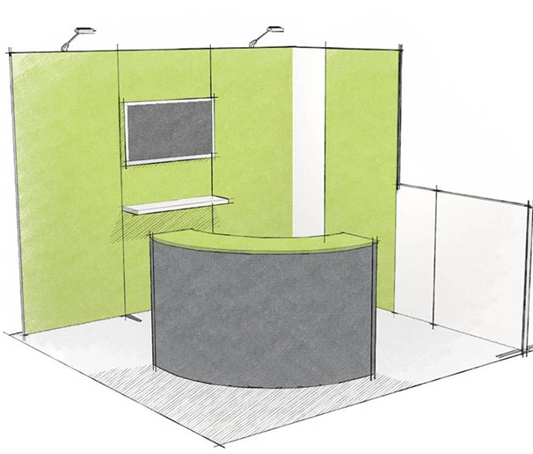 In the image above we colored the wall green to indicate which ones are 8 feet tall. You can have 8 feet on the side only for 3-4 feet and then the wall needs to drop down to 4 feet as it does in this example. Check your exhibitor manual to see what is allowed at the show where you'll be exhibiting. The green panels are 38 inches wide and for the purposes of showing where one begins and ends we drew lines on them. In the actual display the framework is hidden by the fabric.
In the three examples above the client felt that this trade show display looked like a fancy bar. They preferred a simpler look to their bar, more of a neighborhood bar type of exhibit booth. In the two layouts shown below you can see what the client approved.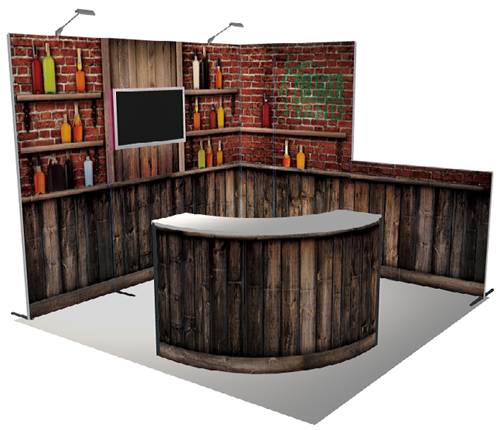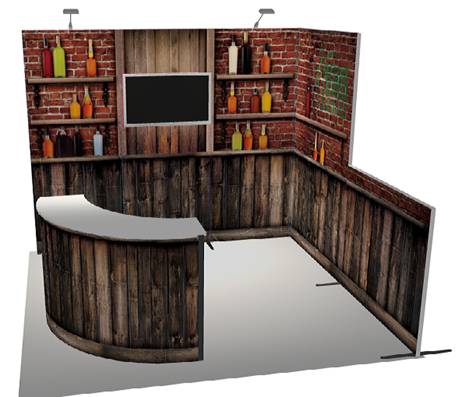 ---
The photos above show the images we sent to the client for approval. Below you can see photos of the actual finished exhibit booth. In the photo below you can see that we have not yet added the bar counter top. Although everything looks very 3-dimentional there is no wood or brick; everything you see is tightly stretched fabric with a high resolution print. The fabric is used to hide the framework.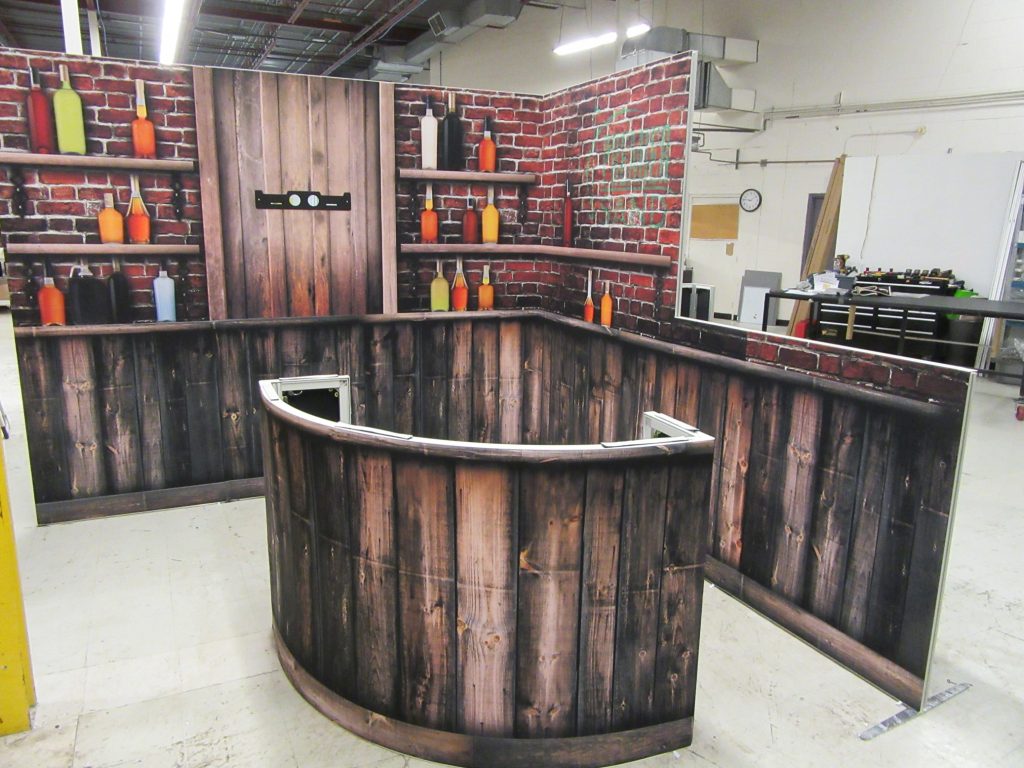 In the photo below you can see the part of the trade show booth where the TV monitor will mount. We use a sophisticated media player to run a show that we created for the client to display images and information on the screen.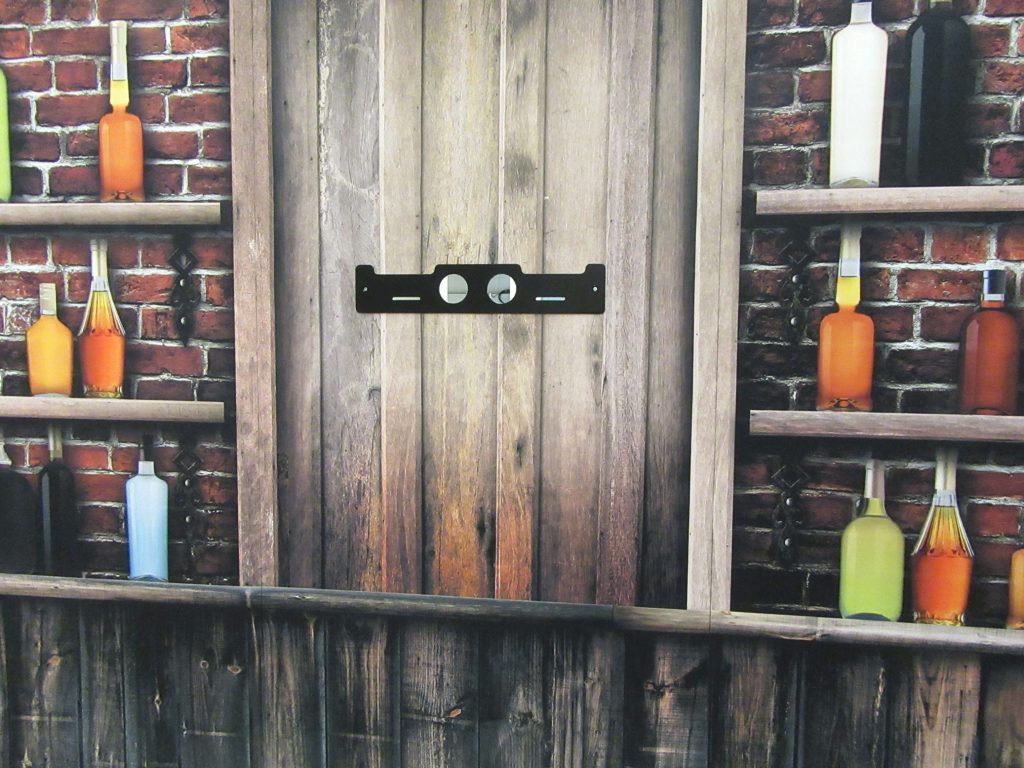 Here are two photos of the finished exhibit booth that was made to look like a local bar. On the back wall of the bar booth you can see a TV monitor which is playing a video we created for the client. We programmed a very small media player so that it could connect to the TV with an HDMI cable. No computer was needed and since the media player was so small it could be hidden in with the monitor mount. It would have ruined the look of the exhibit booth bar if we had a computer sitting on a table there.