Island Exhibit Displays - Peninsula Display Booths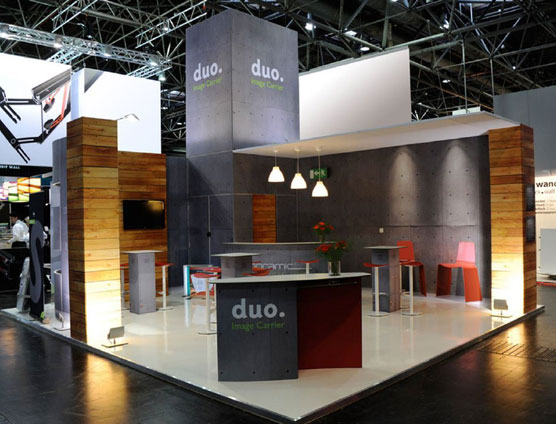 Island exhibit displays and peninsula displays are very similar in several ways.  For example since the peninsula display is always at the end of an aisle and open on three sides they are allowed to have a hanging sign just as the island display is also allowed to have a hanging sign.  The exterior of the back wall of a peninsula display must be blank so that logos and graphics are not visible in the neighboring exhibit space.  The height of exterior walls of a peninsula display booth are higher than an in-line booth space.  The island exhibit space will allow for even higher walls than the peninsula walls. These of course are general rules and you should always check with the show management to be certain about what you will be allowed to do with your space. There are many factors to consider when you decide to have something new and unique built to represent your company.  Even lighting can become an issue with an ever increasing number of venues and trade show management companies banning incandescent and halogen bulbs.  LED lighting is a safer and lower power consumption option which is allowed in places such as Las Vegas.
In this video you can see how it works.
20x20 island exhibit displays like the one shown above is allowed to have high walls, towers, second floor meeting rooms and hanging signage.  In addition to being an island trade show display this is also an example of aluminum extrusion used with silicone edged graphics hiding the seams in the printed fabrics.  Additionally what appears to be gray concrete walls and wooden towers is nothing but faux finishes printed on fabrics. We used a very thin aluminum frame which has a small slit where we insert the edge of the graphic.  The setup is surprisingly simple and typically takes only one person. Additionally there is a huge savings in weight and that means that the shipping costs are greatly reduced.
This is what happens when you have exceptional designers and work with great materials.  You can build a custom designed aluminum extrusion island trade show display that looks like moss is growing out from between the spaces between the bricks.  The sturdy aluminum framework supports lightweight fabrics, (not bricks) which are printed using high resolution print methods to make very realistic looking moss appear to be growing from the bricks.  We love our faux finishes! The negative space (blank space) of the fake brick wall draws attention to the graphic in the center. A trade show display like this would work in a 20x20 or 20x 10 space because we would custom design it to meet your requirements.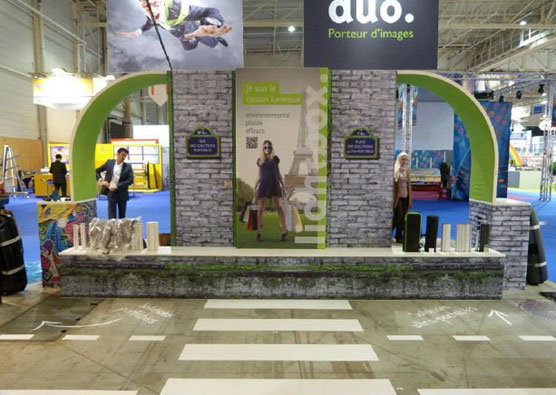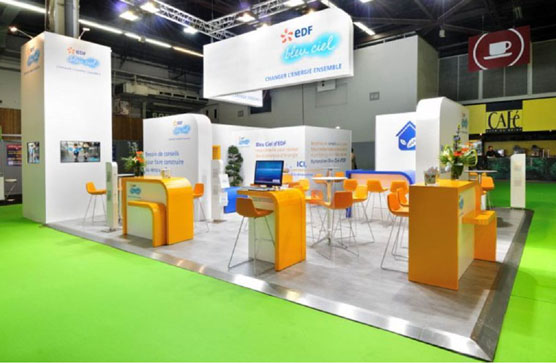 Here we feature high walls, towers and a massive overhead sign.  It all looks heavy and it is very sturdy, yet it is still nothing but fabrics printed and placed on thin aluminum extruded framework. Part of this exhibit booth is made p of components from our kits while other parts such as the work stations with matching chairs were custom made.
High flat walls like this would only be allowed in a peninsula exhibit booth space or island space. Notice the panels inside which appear to be floating just below the ceiling.  This was custom made for a 10x20 exhibit space.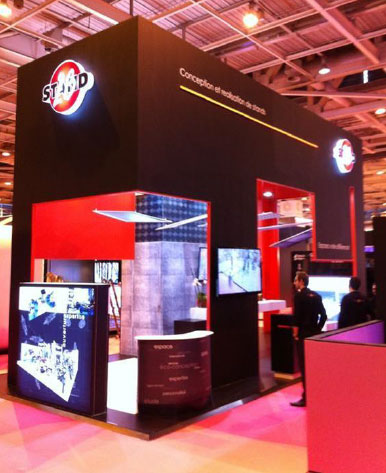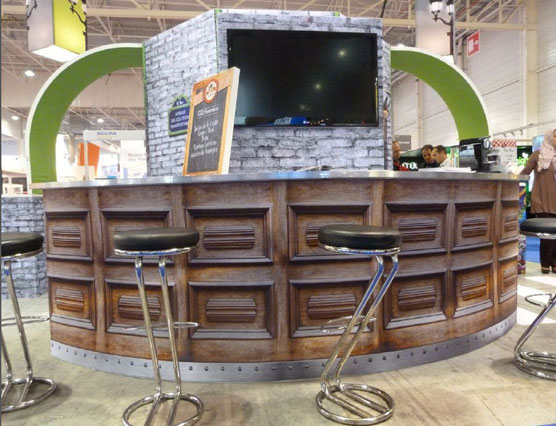 Let us build this 20x20 island exhibit booth for you and all the other exhibitors can pack up and go home.  You'll have all the traffic at the bar.  Don't worry about the bar tab; this isn't heavy wood and steel as it appears to be.  It was all constructed as a lightweight aluminum extrusion display with high resolution graphics printed on fabrics.  Yes that is a print of wood and steel on fabric! Most exhibit halls have a contract with a catering company which is often in-house and they won't allow you to serve drinks at the bar.  That won't stop attendees from walking up and sitting at the stools to ask what you are serving. The big screen TV mounted at the center of the bar may be showing your corporate video instead of the big game. As you may have guessed, the brick wall holding up the TV is just another one of our faux finishes.
Maybe a futuristic looking trade show exhibit booth would help to promote the idea that your business is always on the leading edge of technology. Large flat screens add to the modernistic look. In this 20x20 space you could have a glossy looking floor or we can also print high resolution graphics on floor mats. We have plenty of ideas for great looking island exhibit displays.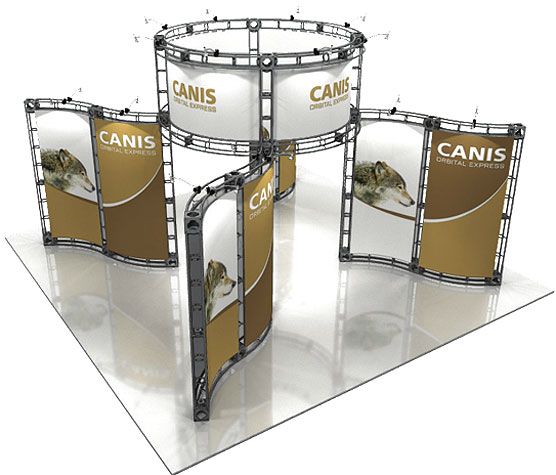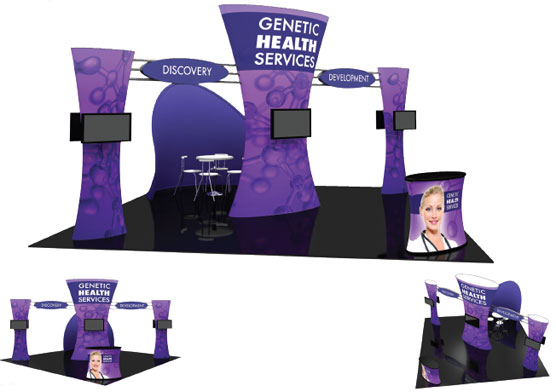 Is it an aluminum extrusion display or an island display?  Yes!  Here is an example of a 20x20 aluminum extrusion island display. The curved walls face outward in all directions absolutely forcing people to notice. The overhead sign is supported by the structure and being circular too can be seen from all directions.  You are exhibiting at a trade show because you want people to see you and we will make sure that is exactly what happens.
Here we show an example of how we can have private conference rooms in one of our very open looking island exhibit displays.  The front wall also hides a large storage area for brochures, trade show giveaways and whatever you need to keep tucked away out of sight. We custom design the overhanging sign to match everything else and finish this exhibit booth off with a matching podium.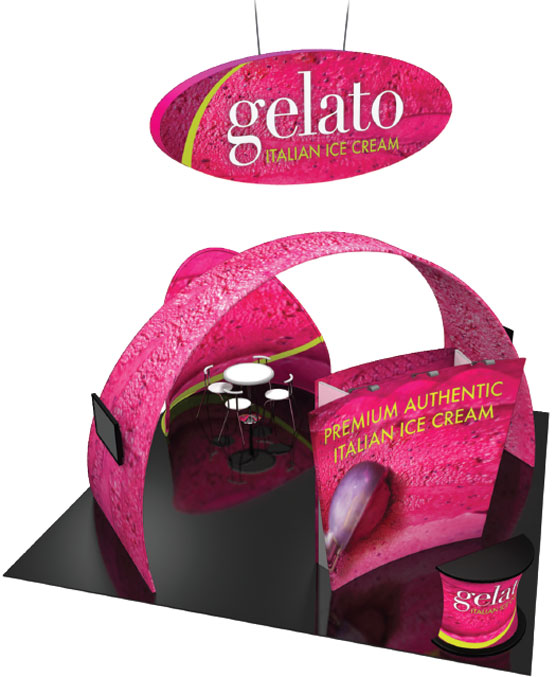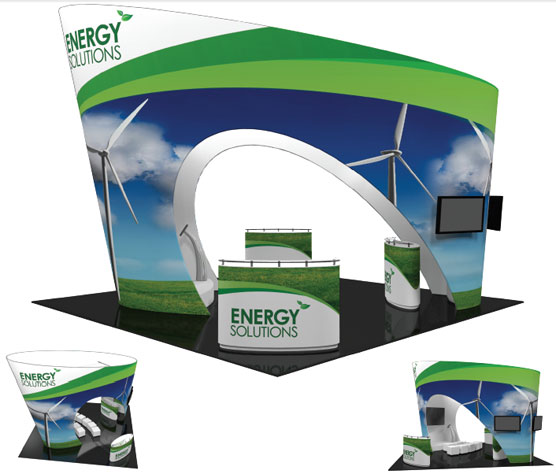 We can't help ourselves; we like attention!  With this island display we make sure you are the star of the show by including seating inside, theater style so that everyone can watch your show. Bring them in, get them seated and make your presentation.  People spend hours walking around the exhibit halls and having a place to sit and watch your presentation on a big screen TV will be a welcome change. Having visibility on all sides is the big benefit of having one of our island exhibit displays.
A cone shaped sign at the top of your booth does two things.  The shape makes it visible from all sides and the curves also allow for lights shining upward to illuminate your logo.  Let's make it easy for your existing customers to find your booth at the trade show and encourage potential new customers to come and take a look.